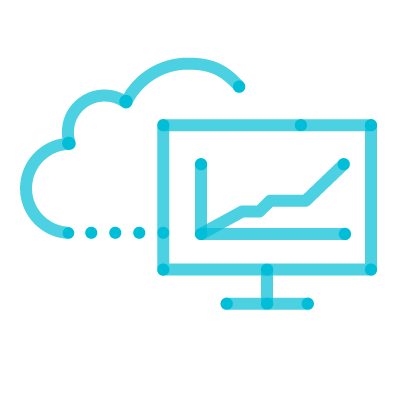 AI. It's about today. Not tomorrow.
Data. It changes everything but is increasingly distributed, complex and sizeable. For many, AI will be the key to unlocking its potential. By 2020, insights-driven business will steal over $1.2T p.a. globally from their less-informed peers1. Already, 8-in-10 businesses are planning or implementing AI in customer service tools alone2. McKinsey Research indicate developers will include AI functionality in 40% of all digital transformation projects and up to 75% of apps this year3. It's why our validated reference architecture is built to AI and ML standards, and ready to make new things possible.
When we couldn't find the perfect cloud for Australian business and government, we built it. We call it LaunchTM. For over 18 years, our high-performance solutions and unthrottled connectivity have served leading organisations from NewsCorp and the Houses of Parliament, to Symantec and Marketo. Our standards-based design is ready to serve selected workloads across:
Artificial Intelligence.
AI; Machines making decisions.
Machine Learning.
ML; Machines that learn and make decisions without explicit programming.
Deep Learning.
DL; Machines that use artificial neural networks to learn and make decisions with complex data
Dense, GPU-accelerated solutions designed for you. Not for us.
We're different. We deliver tailored solutions with our own sovereign Australian Data Centres, over 200 engineers security cleared to government standards over here, not over there, and in-house Telco and security capabilities. We're ready to take the next step with users from  education to finance, with everything from Monte Carlo simulations for assessing financial investments to data-intensive workloads for oil and gas exploration, and intense simultaneous operations with NVIDIA Tesla P6 and V100 GPU machines.
With the technologies and partners you already know and trust.
With budgets falling, complexity rising, and the war for talent raging, taking the first step for new projects can be hard. Whether you're an existing partner, or new to Australia's most-recommended cloud team, you'll enjoy a named local team, a rich UCS fabric, Australian exclusive VMware Showcase Partner status, agreed billing with user- friendly tools such as Macquarie Cloud Services Portal for a single pane of glass to consume, manage and understand your environment and MacquarieView to keep you under budget and in control. This commitment to transparency is why:
We never charge by transactions or API calls that risk variable costs.
Our pricing starts with a single host.
Our storage promises a minimum guaranteed performance target, and
We don't cap our IOPS, even for sustained bursts.
Secure & Sovereign.
Comparing complex cloud solutions can be challenging. Sensitive and regulated data can have special requirements. And the goalposts are always moving. That's why independent certifications are at the heart of our defence-in-depth model. LaunchTM is Australia's dedicated secure cloud platform. Its AI and ML validated architecture features independent certifications including ISO (data security), PCI (financial data), ISM (government), DHS (healthcare), NV1 (personnel), CAUDIT (Education) and more.
We're hundreds of people with thousands of solutions, and we'd love to show you why we're more recommended by our users than any other provider. It can all start with a single coffee. Let's talk.
1 https://www.accenture.com/us-en/insight-artificial-intelligence-future-growth
2 https://go.forrester.com/wp-content/uploads/Forrester_Predictions_2017_-Artificial_Intelligence_Will_Drive_The_Insights_Revolution.pdf
3 2017 McKinsey AI report
We're hundreds of people with thousands of solutions.
Talk to our LaunchTM specialists today.
Enquiry Sent.
Thank you for contacting us. We'll get in touch as soon as possible.