With over 70% of Australian IT budgets already consumed by legacy costs2, freeing time, money and talent for what comes next is crucial.
For 91% of Australian organisations, the answer is a multi-cloud solution2. While this approach can put each workload in the right place, it can also open the door to variable billing and complexity. Up to 80% of organisations utilising the Cloud are paying for services they do not use as a result3. We're different. For 17 years, we've built on our Telco heritage to serve teams being overcharged and underserviced. We're hundreds of people, with thousands of solutions. Over here, not over there. Let's talk.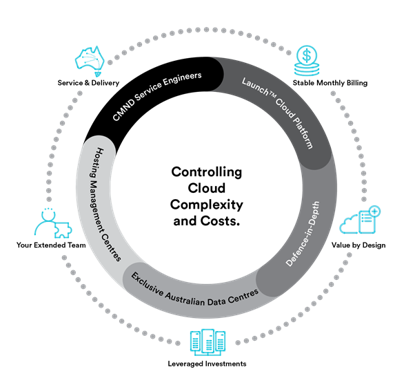 5 Point Framework.
We use a 5-point framework to deliver Colocation, Hybrid and Private Cloud solutions to meet your performance and budget goals today. And tomorrow.
At Macquarie Cloud Services, we believe in delivering value by design. It's another reason we're Australia's most-recommended provider. We'd love to show you just what we can deliver you. It can all start with a single coffee. Let's talk.
Talk to our team today.
Enquiry Sent.
Thank you for contacting us. Our specialist will be in touch with you shortly.