Ask us about our data centres.
How do we get you into our data centres?
Everything you wanted to know about Colocation.
What is colocation?
Your gear. In our centre. Saving you money. Uplifting performance, scalability and resilience. Because, done right, you not only 'sweat' your existing assets, your free time, money and talent for the projects that matter most.
What is a colocation data centre?
It's about the numbers. And the people.
Sydney's IC2 data centre is Australia's most-awarded. While typical data centres exceed 2.5 PU power consumption, our design goal was an extraordinary 1.3.
But there is so much more required of a colocation data centre. Compliance. Monitoring. Value. Access. Onsite support. Flexible racking, power and configuration options. Onsite meeting rooms, testing, storage and maintenance. Security. And more. We invite you to see our Intellicentres for yourself today.
Colocation Australia.
When issues arise, they are often technical and urgent. Whether its 2pm or 2am, immediate onsite access and support makes all the difference. Our world-class data centres in Sydney offer inter-zone, inter-region and even inter-cloud connectivity for 100% uptime, active-active solutions. Colocation Australia built for today. And tomorrow
Benefits of colocation.
Too often, providers talk about a generic 'journey to the cloud' without understanding you, your team, solutions or investment. When you want real-world insights from Australia's leading colocation provider, talk to Macquarie Cloud Services.
We'll leverage your existing assets and free you from runaway power costs, compliance and security risks, OPEX burdens and scale and design challenges. Because we're carrier neutral, and a leading Telco in our own right, we deliver superior connectivity and value.
Our team will make your design, lift, shift and migration seamless. And colocation is just the beginning.
What to look for.
Not all data centres are equal. To us, it's personal
We are the leading provider to the Australian Government. And the most-recommended by our customers. Sydney IC2 is Australia's most-awarded data centre. And we've become Australia's compliance and security experts.
We deliver an unmatched user experience across bare metal, self-managed or fully-managed colocation options. Or an extended data centre. Or fully architected hybrid cloud and private cloud solutions. Your journey starts here.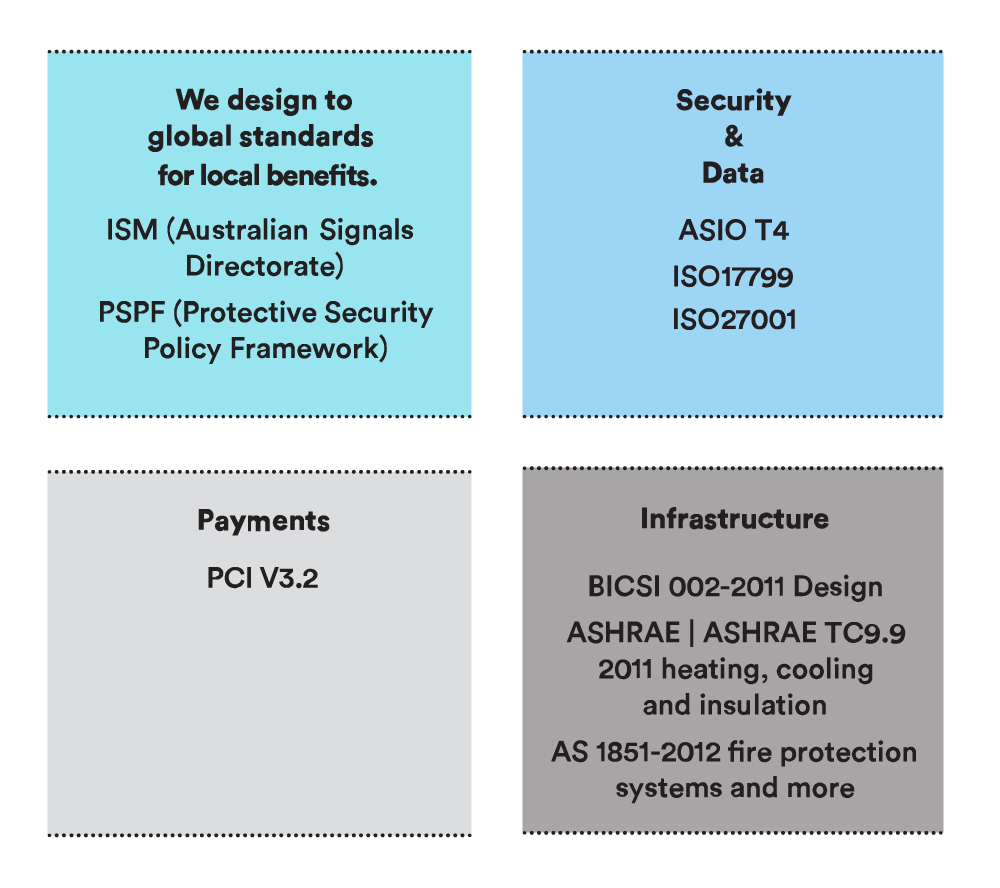 We're your compliance and certification experts.
Comparing difference Colocation solutions can be challenging. So make compliance and certifications your guide. Insist on ISO27001 (data security), PCI3.2 (financial data), NV1 (team security), ISM and SCEC (for the public sector, and those who work with them and for them)
We're Australia's exclusive VMware Showcase Partner, and work with the partners and technologies you know and trust to secure the cloud.
Deeply Interconnected.
A chain is only as strong as its weakest link. For some solutions providers, this is connectivity. We're not just carrier-neutral, we're also a leading business-facing Telco in our own right.
Not all connectivity is created equal.
Our defence-in-dept model is baked into everything we do. It's just another reason, we're Australia most recommended provider. When you put it all together, it makes Colocation, or stretched solutions easier to stand up than ever before.
Because colocation is easier than you might think.
Our team will make your lift, shift and migration seamless. Our LAUNCH platform and layer 2 connections deliver seamless virtual extensions of your IP networking and virtualisation layer. So you can bring virtual machines, IP addresses, cluster design and security zones across unchanged.
Too often, providers talk about a generic 'journey to the cloud' without understanding your assets, team and solution stack. When you want real-world insights from Australia's leading provider, talk to Macquarie Cloud Services.
How to pick a good colocation data centre - watch our video.
Why a data centre and how to pick a good one.
Business IT has many parts, just like an orchestra. The challenge is to bring out the magic of each instrument yet weave them all together to sound as one. Today, IT has to deploy more apps to a more mobile workforce and increasingly to external customers and partners via the Internet 24/7.
Business IT has been turned inside out delivering more and more applications outside the traditional network. Downtime now results in lost revenue and poor customer satisfaction. This plays out differently but most businesses find that the answer is to leverage the shared facilities and skills of a great data centre. A great concert hall and orchestra if you like.
Most businesses start with a computer room in a building designed to house people, not IT equipment. As IT grows, so does power to run and cool the servers and before long, expensive dedicated power equipment is required. To simplify, you virtualise. Packing lots of power computing power into a small space. Add the ever expanding data storage, firewalls, and routers which all results in more heat and more cooling.
Your IT availability. Your music is being limited by your environment. Power is a big factor in your ongoing cost. Often costing more than the equipment over its life. Power is estimated to cost 40% more by 2015. To manage costs, we must become energy efficient. Power Utilisation Efficiency (PUE) is a multiple of the total power used by your IT equipment. Typical computer facilities use more than twice the power required. A very efficient facility is closed to the one-time target – this is compounded by carbon tax.
For high availability, you look at building an in-house data centre. On top of the build cost, it's two times everything. Power, cooling, UPS, diesels, maintenance and staff 24/7, and security to protect it all. Then something happens and you have to move? Ouch!
The final straw comes when Government industry or major contracts specified a level of certification resulting in more investment in systems, staff, or external support cost.
Don't panic. There is a better way. Make a world class data centre your IT hub. So your business can move and scale as needs dictate. Leveraging a data centre scale in environmental energy management, connectivity, and security. Scale and redundancy on all systems is the baseline for any world-class data centre.
Next, is it a good location and facility with on-demand support from a simple pair of hands to engineers? Does it have optional shared services like storage, data backup, and even cloud services – should you need them? To get close to that one time target, a data centre is designed to both produce energy use and be more efficient at power generation. Coal-fired power stations are inefficient converting only 1/3 of the energy available into electricity, the other 2/3 are loss in heat and waste. A tri-generation powered data centre recycles the heat to power cooling systems from the servers, gaining a 1/3 more power and significantly reduce carbon footprint.
The top tier is independently audited certifications like Up-time Institute Tier III for availability, ASIO intruder protected for security, ISO 27001 for processes, and PCI for payment gateways. All these are good indicators of your future service experience.
Finally, find a great conductor. The operational track record and credentials of the company behind the data centre. Come and see how great your music can be.
Talk to us about world class colocation.
Blair has the rack options to help.