Any sized equipment. We've got it covered.
Heavy equipment, odd shape rack or three phase power, we want to work out a design for you. We love a challenge – if you can think it, we can build it. And we have a team of engineers that you can use for technical work if you're snowed under or located at the snow. Let us partner with you to get the outcome for your business.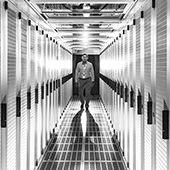 We're obsessed about keeping hot and cold air separated.
Many data rooms, just try to cool the whole room, letting warm and cold air mix and using brute force to cool the place down. By having Hot Aisle Containment or Cold Aisle Containment, we ensure hot and cold air don't mix, reducing the energy required to cool the IT equipment and keeping the air-conditioners working at peak efficiency.
The human side of racks. Making it easy to work in your rack.
Gone are the days of shivering on a hard white floor with a laptop cable running to your rack. Macquarie's Data Centres have open lounges with Wifi for your engineers and visitors. Contractors can be logged in online, and escorted with supervision to perform the critical tasks they need to do. Deliveries can come anytime of the day, and stored in secure lockers and you will be notified by phone to arrange to unpack them in our staging rooms ready for installation. This all makes up the human friendly data centre.
Talk to us for more info.
Full rack, half rack, whatever you need.
Enquiry Sent.
Thank you for contacting us. Our specialist will get in touch with you shortly.